Rafaela Isabel Jaimes Campuzano
1960 - June 25, 2002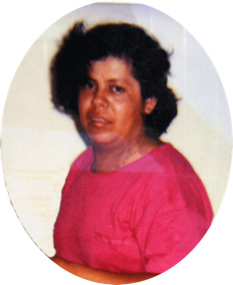 Rafaela was Marc's Birth Mother. We had been in contact with her over the years and had sent her pictures of Marc, but we lost contact for a little while. During that time, she got cancer and passed away. We were told that she was looking for us but could not find us either...While looking for her I found her obituary in the Amarillo Globe-News. We were so sad to learn this. She was proud of Marc and wanted to make contact with him, especially since she was ill. She was a very sweet lady and hopefully Marc and our family can she her in God's sweet time.

I remember as if it were yesterday when she gave birth to Marc in San Barbara, California. We had driven all night from College Place, WA to Santa Barbara to be there. We were able to talk with her in the hospital for a few hours before Marc was born. Sherry speaks Spanish so there were able to communicate well. This was special time for us. She held Marc in the hospital and talked to him so quietly and told him that she loved him but that she could not take care of him as he needed. She told him that she was giving him to Sherry and I to be his Mother and Father. That friends...takes a lot of love...I have always felt the deepest respect and admiration for Rafaela...She gave to our family the greatest gift one can give to another...and we did not take that lightly. Thank you Rafaela....Thank you...

Her ashes are buried in Amatepec, Mexico next to her brother who passed away before her.


Rafaela Jaimes Campuzano

Amarillo Globe-News, July 1, 2002
Rafaela Jaimes Campuzano, 42, of Amarillo died Tuesday, June 25, 2002.
Private family services have taken place. Cremation and arrangements are
by Rector Funeral Home, 2800 S. Osage.
Ms. Campuzano was born in Amatepec, Mexico. She worked in the
housekeeping department at the Holiday Inn.
Survivors include a daughter, Crystal Campuzano of Amarillo; a son,
Santiago Campuzano of Amarillo; her mother, Elizabeth Campuzano of
Mexico; a special friend, Benita Chacon four sisters; and two brothers.