Recipes & Goodies!






Potato Roll Taquitos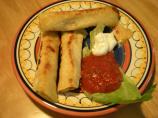 Potatoes with jalapeños and cheese rolled in a corn tortilla and fried till crispy.

55 min | 30 min prep
SERVES 4

2 whole jalapeno peppers (or 1 depending on heat)

12 Corn Tortillas

2 cups boiled potatoes (or mashed or any left over soft skillet potato leftovers)

2 tablespoons taco seasoning

1/2 cup shredded cheese (your favorite kind)

1/4 cup fresh Cilantro, finely chopped

1/4 cup Onion, finely chopped

Cooking oil (enough to lightly fry)
1. Chop jalapeño peppers finely.

Chop cilantro.

Boil potatoes till easy to mash but still a little firm.

Mash potatoes and add jalapeños, taco seasoning, onion, cilantro and cheese together.

Prepare tortillas by fast steaming so they are easy to roll. I usually boil water in a small pot a little smaller than the tortilla's then place a double paper towel on top and place one tortilla at a time for 2 or 3 seconds till steamed, then remove and replace as you go.

Take a steamed tortilla and spoon about 1 tablespoon of potato mixture in and roll gently. Place in baking dish with the rolled side down. Continue doing this lining them up in dish as you go.

Place in freezer for 15 minutes or until they become slightly stiff. I like this method better than toothpicks.

Heat oil on medium heat (I usually use olive oil).

When oil is ready, place 4 tacos at a time with the rolled side down in pan.

Flip to other side when brown.

Remove and drain on paper towels.

Garnish as desired. (Thinly sliced Salad, Chunky Salsa, Avacado)

13. I use sour cream mixed with taco sauce drizzled over the top

From the Senior Pico restaurant in Los Angeles.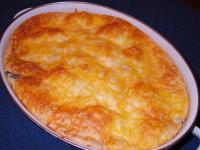 These rellenos BAKE instead of fry, and are super! The fresh peppers are worth the extra effort, but canned are acceptable. See the database for Senor's Pico's Picante Sauce. The prep time is figured for canned chiles.

by Miss Annie
6 Rellenos

40 min 25 min prep

6 canned whole green chilies or fresh chilies, roasted & peeled

6 slices Monterey jack cheese, 2 inch slices, about 1/2 thick

6 slices cheddar cheese, 2 inch slices, about 1/2 thick flour

8 eggs, separated

1/4 cup butter, melted, Senor Pico's Picante Sauce
1. Rinse the chiles and discard the seeds.

2. Insert 1 strip of Jack and 1 strip Cheddar cheese in each chile, cutting a slit in one side of the chiles.

3. Dust the chiles with flour.

4. Beat egg whites until stiff.

5. Beat egg yolks and fold into whites.

6. Add melted butter (should not be hot) to the egg mixture.

7. Grease generously a 8x8 baking dish.

8. Pour a thick coating of batter on bottom of dish.

9. Place chiles on top of batter, and spoon remaining batter over chiles.

10. Bake at 375° for 15 minutes.

11. Top with Picante sauce.

"Orange Julius"

Here is the Orange Julius Recipe...Very good!

1/2 Can of a 6 Oz Can or Frozen Orange Juice Concentrate

1/2 cup Milk

1/2 cup Water

1/4 cup Sugar

1/2 teaspoon Vanilla

5 - 6 Ice Cubes

Blend all ingredients on high for about 30 seconds. Makes about 3 cups

Mmmmn...If you like Pistacio's...you will not find any better than these!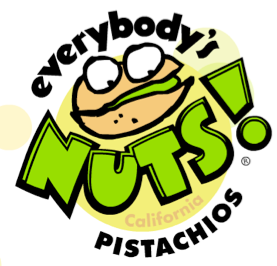 Schwan's
#912
Fire Roasted Spinach & Mushroom Pizza
YUM!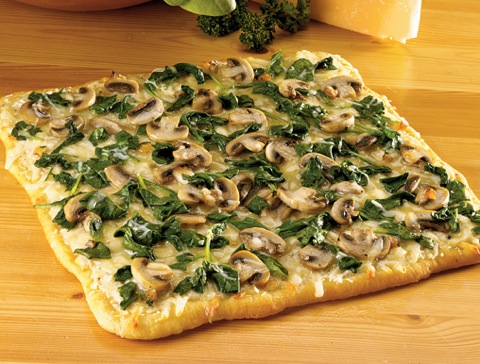 Marie Callenders Pies...Yum! This Razzelberry one is amazing!

Spinach Pesto Pizza


Julia Sayre
Get a premade pizza crust (like Boboli) or if you're watching carbs or calories, a nice lavash flatbread. Pile on about 2" high of baby spinach. Drizzle with pesto, top with grated mozarella and shredded parmesan or romano. Bake at 425 till cheese bubbles and begins to brown. These are addicting and you can modify it by adding whatever you like...but try it as is first.

If you don't have a pesto recipe, here's a quick & easy one:

2-3 cups fresh basil leaves
1/2 cup olive oil
3-4 cloves fresh crushed garlic,
salt to taste
optional: 1/4 to 1/2 cup of pinons or walnuts
Blend until smooth





Marc Goff's Natural Dressing

1/4 C Braggs Liquid Aminos
1/4 C Braggs Apple Cider Vinegar
1/4 C Lemon juice
1/2 C Olive oil
4 Garlic cloves

Crush Garlic and mix with all the other ingredients.





Lima Bean Casserole
Marjorie Williams

We understand that there is a threat in the air, so this is being given before there can be any bloodshed...Glenn Williams
(I had to make threats to get this recipe..after you will make it...you will see why!)

1 Pound Large Dry Lima Beans
1/2 cup shredded Jack cheese
1- 4 oz can of diced green chilis
1/2 cup sour cream or mayonnaise
onion salt, oregano, basil or thyme to taste

Cook beans until tender, drain but save cooking water.
Stir green chilis, cheese and seasonings into the beans.
Into one cup of saved water stir sour cream or mayonnaise and add to the bean mixture.
Pour mixture into a generously buttered shallow baking dish (6x10x2)
Bake in 350 degree oven 30 minutes or until bubbly.
Garnish with paprika if wanted.

Eat with Gusto (or some other friend if you feel the need to share)





Microwave Peanut Brittle

Into a 1 1/2 Quart Bowl Mix:
1 Cup Sugar
1/2 Cup White Corn Syrup
Stir together & Microwave on High for 4 minutes
Add:
1 Cup Roasted & Salted Peanuts (Spanish is best), mix well and microwave for 2 minutes
Add:
1 tsp Butter
1 tsp Vanilla Extract
Mix well and microwave for 2 minutes
Add 1 tsp soda and stir until light and fluffy the spoon out onto lightly greased pan.
Let cool then break up.





Winnie Tucker's Meatloaf

This recipe was given to me by a sweet lady in Astoria, Oregon
You will not find a better Vegetarian Meatloaf Anywhere!


Serves 8

2 Medium Onion's chopped fine
Meatloaf:

6 slices of brown bread, cubed
1/2 cup margarine or butter
1 Can Loma Linda or Worthington Vegeburger (1lb 4oz)
4 eggs
1/2 tsp Poultry Seasoning or Sage
1/4 tsp Garlic Salt
Pinch of Accent
1/2 Lb Shredded Cheddar Cheese

Topping:
1/4 cup Catsup
2 TBS Water
2 TBS Brown Sugar

Directions:
Saute onion & Bread cubes in butter. Combine rest of Meatloaf ingredients and mix well. Put in greased baking dish. Spread topping over the top and Bake @ 350 degrees for 45 minutes.





Vegetarian Burgers
From Adrienne Goff

One of my favorite meals at my in-laws is their homemade veggie burgers. I finally had the nerve one day to ask them for the recipe and was able to test it out on my own, exchanging a few ingredients and such. After a few requests from friends for this recipe, I figured I would share it here on my blog. Enjoy!
Ingredients

1 can of Worthington or Loma Linda Veggie Burger

1 Large Onion (finely chopped)

4 Eggs

1 cup Oats

1/3 cup Flour

1/4 cup Pecan Meal (optional for those allergic to nuts)

1 tsp Garlic Powder

1/2 tsp Salt

1/8 tsp Sage

1/8 tsp Oregano

1/8 tsp Marjoram

1/8 tsp Rosemary
Directions

Combine eggs, chopped onion and spices in a large mixing bowl. Add oats, flour, pecan meal (optional), and veggie burger. Stir and mash ingredients together really well with a large spoon. Let sit for 30 minutes. Roll into approximately one inch round balls. Using a griddle or frying pan, add canola, olive or other oil of choice. Place burger balls into pan and use spatula to flatten into about 1/3 inch thick patties (roughly 4 inches in diameter). Fry until its golden brown on the bottom and the top becomes shiny. Flip and cook second side.
Yields approx. 15, 4 inch burgers.




Danny's Masa Recipe for Tamales

5 lbs. Fresh Masa
1.5 cup Veg. Shortening
1/8 cup Salt
1/4 cup Chili Powder
2 cups Broth or Water ( I used Veg Broth)
1/8 cup Baking Powder
1/8 cup Garlic Powder (Optional)
Place masa in large bowl, break into pieces. Set aside. Melt shortening on low heat; add chili
powder, salt and mix. Stir together broth, baking powder and garlic powder. Gradually combine broth and
shortening mixture to masa. Mix well after each addition. Masa should be smooth. Let masa rest 10 minutes.
Spread fast and easy using a wide putty knife. Add your favorite filling and steam cook for 1
1/2 to 2 hours.





Sopaipillas


4 Cup Flour
2 Teaspoon Sugar
1/4 Cup Shortening
1 Tablespoon Baking powder
1−1/2 Teaspoon Salt
1 1/4 Cup Water or more if needed
Sift dry ingredients together. Cut in shortening until crumbly. Add water
and mix until holds together. Knead 10−15 times until dough forms a smooth
ball. Cover and let set for 20 minutes. Divide dough into two parts. Roll
dough to 1/8" thickness on lightly floured board. Cut into 3" squares or
triangles. Do not allow to dry; cover those waiting to be fried. When ready
to fry, turn upside down so that surface on bottom while resting is on top
when frying. Fry in 3" hot oil until golden brown, turning once. Add only a
few at a time to maintain proper temperature. Drain on paper towels

.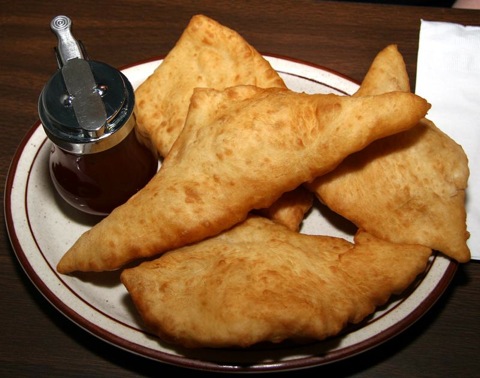 Migas (Scrambled Eggs with Corn Tortillas)
by Lisa Schroeder, Danielle Centoni


Serves four.
4 Tbs. (1/2 stick) unsalted butter, preferably clarified
1 small to medium yellow onion, finely diced (3/4 cup)
3/4 cup finely diced bell peppers (preferably a mixture of green and red)
4 (6-inch) corn tortillas cut into long, narrow strips (1 cup)
1/2 tsp. kosher salt
1/4 tsp. freshly ground black pepper
12 large eggs, beaten
1-1/2 cups shredded Monterey Jack or pepper Jack cheese
1/2 cup Chipotle Sour Cream (optional)
1/2 cup Salsa
1/2 cup thinly sliced scallions, (white and green parts)
Place a large (12- to 14-inch), nonstick sauté pan over medium-high heat for several minutes.
Add the butter, onions, and peppers, and sauté, stirring now and then, for about 2 minutes or
until softened. Add the tortillas and continue to cook, stirring now and then, until they start to get
slightly golden and the onions begin to caramelize, 3 to 5 minutes more. Season with the salt and
pepper.
Pour the eggs into the onion-tortilla mixture and cook, stirring occasionally with a heatproof
rubber spatula, until the eggs are almost fully cooked but still a little wet (though not liquidy).
Add the cheese and stir to combine and finish cooking the eggs (don't add the cheese too soon or
it will make the eggs runny).





Olive Garden Alfredo Pasta
(from Top Secret Restaurant Recipes) that includes more grated Parmesan cheese and fresh garlic instead of garlic powder. You'll find this sauce thickens easier and has an improved Olive Garden taste. Just be sure not to crank the heat up too high when simmering the sauce or it could break, resulted in a not-so-creamy, curdled Alfredo. 1/2 cup (1 stick) butter 2 cloves garlic, minced 2 cups heavy cream 1/8 teaspoon ground black pepper pinch salt 1/2 cup grated Parmesan cheese 1 12-ounce box fettuccine pasta (or your choice of pasta)
1. Melt butter in a medium saucepan over medium/low heat. 2. Add the garlic, cream, pepper and salt, and bring mixture to a simmer. Turn the heat down if the mixture reaches a rapid boil or it could boil over. You just want a simmer. Add the cheese, and continue to simmer sauce for 8 minutes or until thick. 3. While sauce cooks, bring 4 to 6 quarts of water to a boil and add the pasta. Cook pasta for about 12 minutes or until done, then drain it. 4. Spoon pasta onto serving plates with Alfredo sauce poured over the top.





Bavarian
This is one of my FAVORITE Recipes


2 TBS Butter or Margarine
1 Onion - Diced
1 Can Hot Dogs (Vege-Links if vegetarian-Loma Linda or Big Franks) - Diced
1 Can Mushroom Soup
1/2 Cup Mayonaise
1 Large Can of Sauerkraut (rinsed if store bought)
4 Cups Cooked potatoes - Diced
1/4 tsp Hickory Smoke Flavor (optional)

Saute Onions in Butter. Drain Sauerkraut and steam in pan for a few minutes. Combine all ingredients and put in oiled casserole pan and bake at 350 degrees for 30 minutes.



Papusas (Salvadoran)
Yield: 6 Papusas


Dough Ingredients:
2 c masa harina
1 1/2 c warm water
1 tb ground cumin
salt and pepper

Filling Ingredients:
1 c cooked black beans
1 tbs Mexican chili powder (or to taste)
1/2 tsp cumin powder
1/4 tsp garlic powder
Sprinkle of Cheese

Note: You can fill these with just about anything, Meats, Cheese & Beans, Cheese & Jalapenos, Cheese, Rice, Green Chili's)

Instructions
In a mixing bowl, mix together the masa harina, water, cumin, and 1/2 tsp. salt and stir into a manageable dough. The dough should be soft but not sticky; add more flour if needed. If dough is dry and hard to form, add more water.
To make 3-inch round papusas, put about 1/2 cup of the dough in your hand for each papusa. Roll into a ball and flatten in your hand. Put 1/3 cup beans, and salt and pepper to taste in the center. Work the edges up over the filling and again form a ball, completely enclosing the fillling.
This takes only a few seconds. Flatten each ball to about 1/4-inch or less and cook the papusas on a hot, lightly oiled griddle for about 3 minutes per side, or until both sides are lightly browned. Serve warm.
Makes 6 papusas. Yum!